---
This is a republication of the paper "Artificial Intelligence: Ready to Ride the Wave?", with the title above, highlighting the point in question.
---
December 2021
BCG Executive Perspectives
---
This site version was edited by:
---
Joaquim Cardoso MSc.
Senior Advisor for Health Transformation and Digital Health Strategy
August 10, 2022
---
AI HAS STRONG POTENTIAL TO REDEFINE INDUSTRIES
---
At BCG, we believe AI is one of the main forces that will transform industries in the next decades — and we have made it one of our largest investment areas.
Many companies have invested in AI to unlock its potential.
However, only 11% have released significant value — as the majority have failed to scale beyond pilots, reimagine the way they work with data, and redefine human-AI interaction.
This document gives insight into the main success factors that corporates should consider when deploying AI solutions.
---
ACT HOLISTICALLY TO HARNESS THE POWER OF AI
---
---
AI is gaining momentum given potential, yet headwinds must be addressed
---
---
CURRENT STATE AND TRENDS
---
---
AI: implications for leaders
---
I. Embed AI in your business
---
---
II.Prepare your operating model for AI
---
---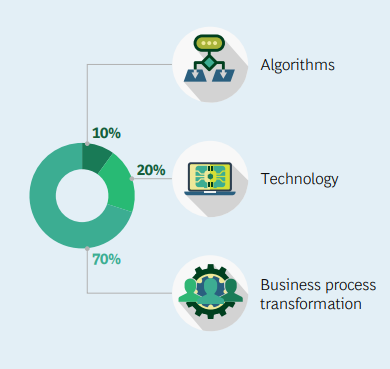 ---
---
SELECTED DEEP DIVES
---
Significant value release from AI is rooted in reimagining the way companies work with data and an ability to move from pilots to scaling
---
---
Only 11% of companies report significant financial benefits through revenue/cost improvements from implementing AI
---
A critical element is people's interaction with AI — high value is unlocked from zero-based design and effective organizational learning
---
To capture value, reimagine processes…
---
---
… and rethink human-AI interactions
---
---
Despite positive outlook, companies must manage labor, data, ethical, and regulatory dynamics
---
---
Treat AI as a business transformation: don't focus only on tech and algorithms — design collaboratively with business owners
---
Use the 10–20–70 rule: Realizing value from AI is rooted in business adoption …
---
---
… Create an environment in which tech can co-develop and implement AI solutions with business team
---
---
Enable data and AI via five "mental flips": decouple data capability building from core IT, embed flexibility via reshoring, and modernize iteratively
---
---
Original publication
https://media-publications.bcg.com/BCG-Executive-Perspectives-AI-Ready-to-Ride-the-Wave.pdf?utm_source=linkedin&utm_medium=social&utm_campaign=digitalinfluencers&utm_description=organic&utm_topic=ai&utm_geo=global&utm_content=s_eaves&tli=104542ly published at
4 KEY DYNAMICS
---
---
Data availability, quality, buy-in, & governance centralization critical to scaling of AI — continued gaps but progress underway
---
Companies have advanced the data "foundations" in the past 3 years…
---
---
… Yet, actual data maturity falls short of corporate ambitions
---
---
Strong data focus underpins China's advancement in AI
---
---
AI faces many ethical challenges…
---
---
… and "black box" perception
---
---